It all starts when Hannah thought of having a photo session with her mum's horse. She was so excited at the idea that her happiness was seen all over her face. She had recently sold her beloved show horse and was preparing to move to college to go on with her studies.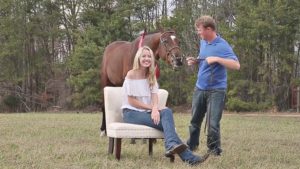 But there was something about her that wasn't truly fulfilled because a horse for sale had captured her heart. The horse's name was Gus and it was like love at first sight for Hannah but her parents had other plans for her and college was their primary goal for their beloved daughter.
This lasted until her eighteenth birthday when her parents surprised her in the photoshoot session. Gus was there ready to shoot photos with Hannah. This literally made me cry because once I had to give up my beloved horse for health reasons and I thought that I may never the possibility to have another.
But knowing that life goes on and it can offer us unexpected things I just believed that God would give me another one and during that time I just took the time watching others finding joy in horses. What a gift the horse is to them and this video captures that. It is so sweet to watch a girl and her horse unite and particularly loved the way she wanted to lay her hands all over him. Watch and enjoy the video!
HERE IS THE WHOLE VIDEO!! Watch it again… IT IS WORTH IT! xo all!Hannah thought she was going to have a photo session with me… and her mom's horse. She had recently sold her beloved show horse and was ready to move on for college… There was something about Gus (a horse for sale) that she just couldn't shake. Her parents both said no.. college time. Until the day before her 18th birthday…
Posted by Impulse Photography on Wednesday, March 1, 2017